Perfect for Parades and can even transport Santa for his big arrival
About the Walk/Driveabout
Meet Basher and Crasher, the cud chewin', fun lovin', hoovy groovy reindeer. Whilst Santa wasn't looking (probably scoffing mince pies and supping that whiskey again) the rebel reindeer half inched his new self-propelled sleigh and are now cruising the streets blasting out the Christmas tunes. They'll astound you with reindeer magic, that's normal magic with added antlers, then stick around and try their amazing Lapland Experience: smell reindeer poo and see the Aurora Borealis!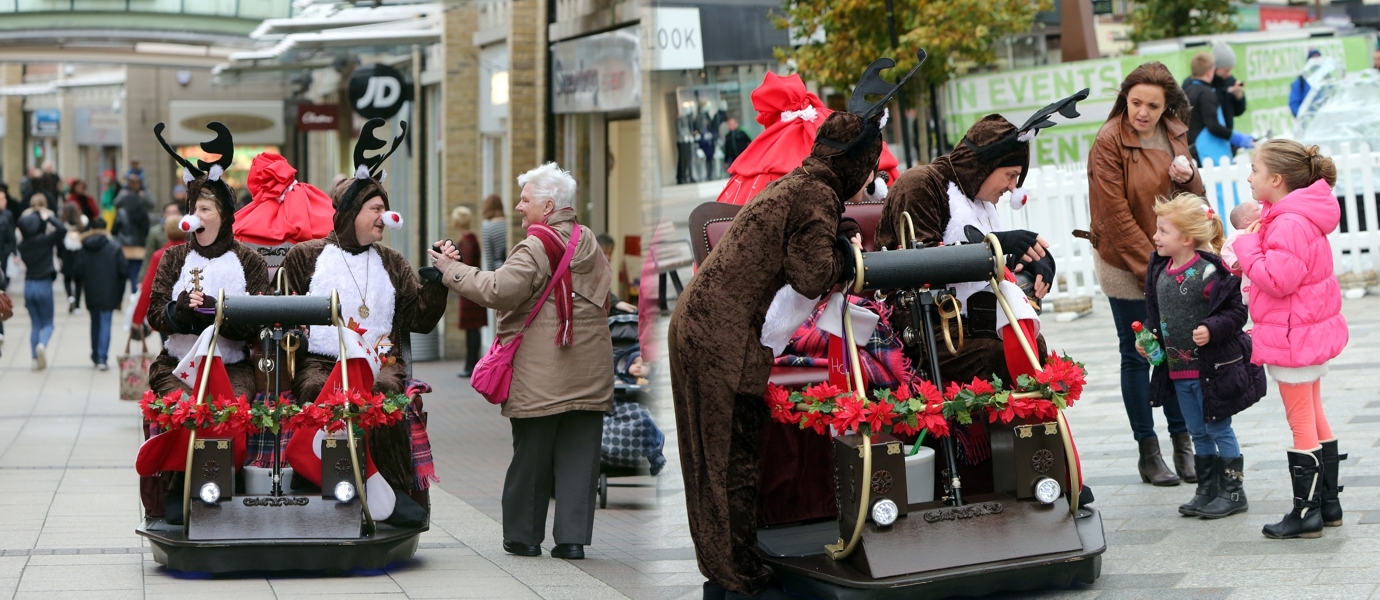 What to expect
The two winsomely onesied performers drive about in their self-propelled Christmas sleigh playing seasonal tunes from the on-board sound system. They stop to interact with the crowds and invite them to try their Lapland Experience, a series of fun spoof activities and sights. They also perform Christmas themed magic and mind reading tricks. A delightfully interactive walkabout with wonderful winter wildlife.
How to Book
Get your crowd in the Christmas mood or help Santa reach his grotto with this fun and funky duo. With style and swagger, these two bring the best of Lapland with them and bang out some awesome Christmas tunes to boot! Just watch your feet for reindeer poo though… Click the button below and fill in the contact form
CONTACT US
Many thanks for your excellent performances at the Grainger Market in Newcastle at Christmas. I really liked the way you converted the Time Machine to such good effect and the reindeer got a great reaction! I know that the Market Manager was also delighted with the response both from traders and the public.
Bell and Bullock are always innovative, professional and very popular with audiences when we book them for events. Their shows always mix innocent joyful buffoonery with clever technical skills and I would have no problem booking them for any of our events.