Excellent for Environmental Events
Great for Garden Themed Events
Perfect for Puppetry Festivals
About the Walk/Driveabout
Meet Belladonna, the beautiful but deadly gardener, as she tries to catch a tasty morsel for her hungry Venus Flytraps. Is your hand steady enough that you dare to feed the flytraps yourself? Or will you help Aristotle the batty bluebottle to escape from their deadly clutches? Watch out that you don't get sucked in by her charm too, as she entices the foolish fly towards his sweet, toothy decline.
What to expect
This act involves a giant fly being chased by a gardener in a Venus Flytrap Puppet drawn chariot. During static spots children are invited to feed the flytrap puppets with small plastic flies on large spoons. The flytraps snap shut and make burping and gurgling noises. The ironically-named Aristotle is tempted towards the flytraps and the audiences are given the choice of pushing him in or saving him, which really says a lot about a place and it's people (we'd get rid of him too, in fairness).
This is a beautifully created and costumed drive-about act with exquisite presentation bringing gentle and friendly fly-themed fun to the streets. Also great for environmental and garden-themed events as well as Puppetry Festivals.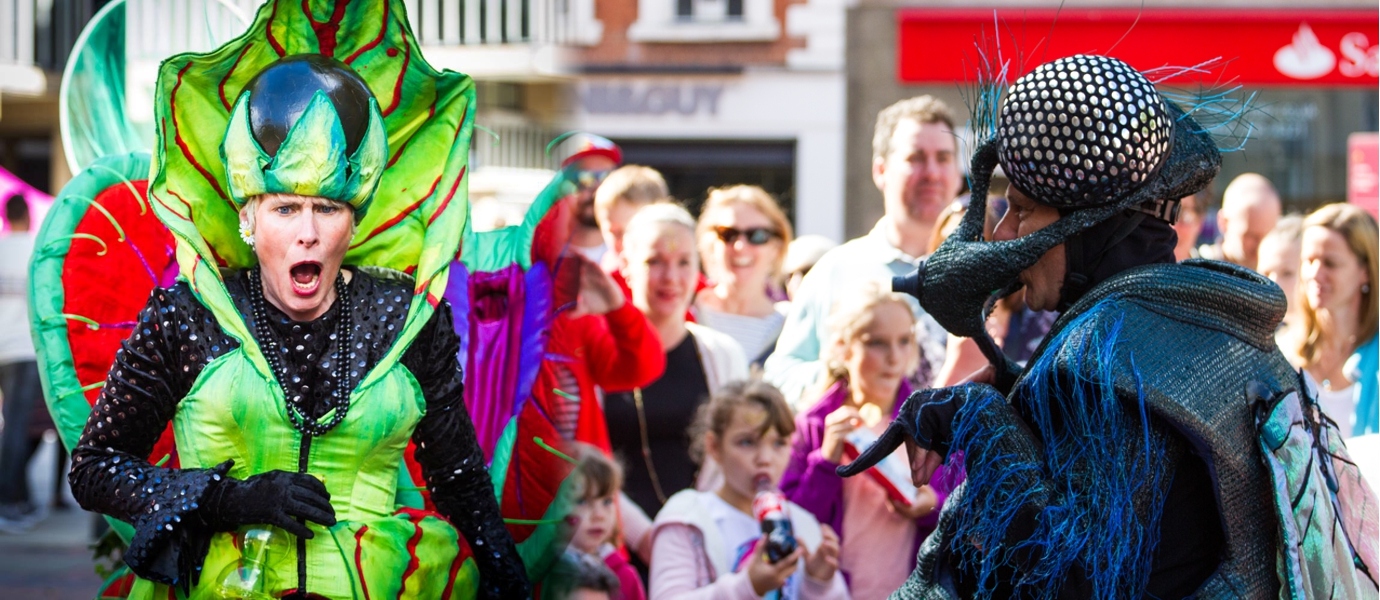 How to Book
If you fancy your chances against this deadly garden plant, book Belladonna and her Venus Flytraps today, by clicking the button below. On the other hand, you could try some sort of weed killer, but I doubt it will be anywhere near as entertaining. And the chemicals are bad for bees anyway.
CONTACT US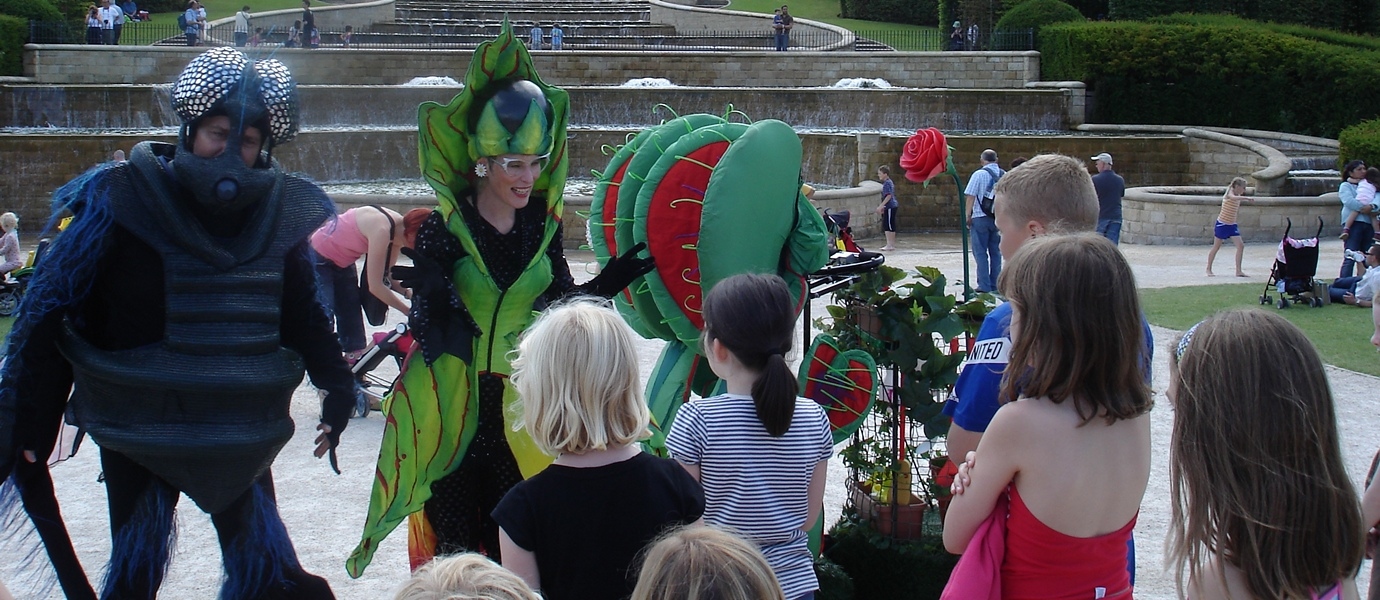 Many thanks for bringing such a wonderful show to Hyde Hall. Belladonna and the fly worked fantastically on audience interaction and were flexible to adapt when the rain kicked in and they couldn't get out in the garden. The kids loved it and now weeks on I am still having visitors talk to me about it and ask if they will be back next year. Such a well organised and professional company, with the most amazing props I have seen. Thank you.
I was extremely impressed with Bell & Bullock. The "Belladonna and her Venus Flytraps" Show was fantastic and very well organised. They worked really well with our visitors both children and adults – their costumes and props were brilliant and very professional. They worked above and beyond what was expected. I would not hesitate to book them again.
Many thanks for bringing the Belladonna show to the Traquair Fair this year. It was a fantastically colourful walkabout pitched perfectly for all ages. I had lots of good feedback and you worked relentlessly throughout terrible weather! Thanks again.